In The News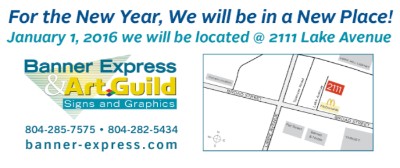 Your signs, your way!
Looking to have a custom banner created? Maybe you are interested in having 500 signs printed? No matter your signage needs, we are here to help! At Art Guild and Banner Express Inc., we use a variety of technology, equipment, and materials to make your vision a reality.
Take a look around our site and see just what we can do. If you have an idea of what you need, click the "Request and Estimate" or "Place a New Order" tab and let us know what you're thinking! With any further questions, click the "Contact Us" tab!
Or just give us a call........
Art Guild - 804-282-5434
Banner Express (west end) - 804-285-7575
Banner Express (south) - 804-320-3535
(Relocated to 2111 Lake Ave. Richmond, Va 23230)
See Below